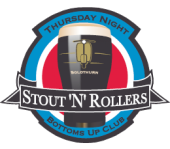 Der "Stout'n'Rollers" Bottoms Up Club kann es einfach nicht sein lassen. Wenn die Kulturfabrik Kofmehl jeweils von der Solothurner Roller-Gang eingenommen wird, und die Räumlichkeiten bereits Wochen vor dem "Vespa Twist" auf den Kopf gestellt werden, spürt man bereits den Tornado aufkommen. Die Kofmehl-Crew kriegt kalte Füsse und stellt sich die Frage, wieviel nach dem Twist noch steht von ihrer heissgeliebten "Kultur-Blechkiste"...
Die Roller lassen's sich aber nicht nehmen, vögeln sich in der Kofmehl bis an die Spitze durch und kriegen es immer wieder hin, regelmässig eine mächtige Sause zu veranstalten!
Dieses Jahr findet der VESPA TWIST am 19. JUNI statt!
Auf dem Programm steht:
THE UPSESSIONS (NL), rocksteady
THE REBELS OF TIJUANA (GENF/TIJUANA), 60s YéYé
THE X-RAY HARPOONS (D), hippie garage
...
..dazu gibts wieder einen CORSO durch's schöne Solothurnerland!
Nachmittags gibts BBQ, BIER und NACHMITTAGS-COMBO.
Nardo bringt die besten PIZZEN.
STÄNDE gibts (hoffentlich) auch – !!sell your shit:
stoutroller@gmx.net
!!
http://www.kofmehl.net/?progid=85316
Abends..
BEAT PARKETT mit DJ's und 2 Bands
SOUL PARKETT mit DJ's und Band
TIKI LOUNGE im Foyer mit DJ & Drinks
!!!ROLL AN ZUM 4TEN GANG!!!